children
Most of the one billion children in the emerging world don't have access to adequate education. The XO Laplet is our answer to this crisis—and after nearly two years, we know it's working. Almost everywhere the XO goes, school attendance increases dramatically as the children begin to open their minds and explore their own potential. One by one, a new generation is emerging with the power to change the world.
OLPC India has initiated a fresh beginning in the educational structure, giving way to a broader and prominent prospects of learning. OLPC India has served more than a purpose in fulfilling the objectives of making it a success among the targeted poor children. OLPC India is a dramatic achievement in touching the lives of poor children and empowering the young minds with spellbound technology.

EXPLORING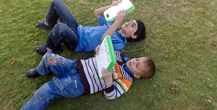 The XO gives learners opportunities they have not had before. Tools such as a Web browser, rich media player, and e-book reader bring into reach domains of knowledge that are otherwise difficult-or impossible-for children to access. 
EXPRESSING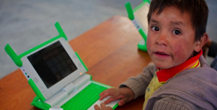 The laplet helps children build upon their active interest in the world around them to engage with powerful ideas. Tools for writing, composing, simulating, expressing, constructing, designing, modeling, imagining, creating, critiquing, debugging, and collaborating enable children to become positive, contributing members of their communities.
LEARNING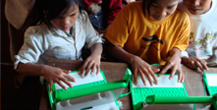 The laplet takes learners beyond instruction. They are actively engaged in a process of learning through doing. Children also learn by teaching, actively assisting other learners. read more
RESOURCES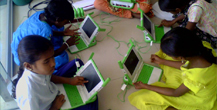 The laplet not only delivers the world to children, but also brings the best practices of children and their teachers to the world. Each school represents a learning hub; a node in a globally shared resource for learning.