hardware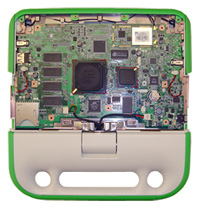 The Ideal Solution for India.The XO is a powerful learning too,l ideally suited for children in India who live in some of the most remote environments. It flexible, ultra-low-cost, power-efficient, responsive, and durable. It has been devised keeping tough Indian conditions in mind.
Can be recharged by human power. The XO consumes just 1 watt of power. It can be solar and foot powered and also recharged by car batteries. The XO's ability to be recharged by human power makes it a critical advance for the several million Indian children who have no access to electricity. Let us know the power you have and we will make XO work on that power for you.
Tough enough to withstand rough handling. The XO is created to be childproof. It withstands damage even if it is dropped. For added robustness, its plastic walls are 2mm thick, as opposed to the standard 1.3mm. The display is also cushioned by internal "bumpers." It is resistant to water spilled on its keyboard. Also, in remote areas where most children sit in open classrooms, it has a screen that visible even in sunlight.
No hard disk crashes. No Maintenance. The XO is virtually maintenance free, making it ideal for children in remote locations, where service engineers are not availability. It has no hard drive to crash and only two internal cables. Its mesh network antennas, which far outperform the typical laplet double as external covers for the USB ports, which are internally protected as well.
Great for video conferencing and playing music. The three USB ports provided offer children a great opportunity to load any content specific to their needs. The XO integrates a colour vision camera, a microphone and internal stereo speakers and amplifier, among other features.
An innovative mesh network: XO creates its own mesh network out of the box. Each machine is a full-time wireless router. Children in the most remote regions of the country —as well as their teachers and families—will be connected both to one another and to the Internet. SUGAR, the "zoom" interface enables all children to connect with each other and graphically captures the child's world of fellow learners and teachers as collaborators, emphasizing the connections within the community, among people, and their activities
Kid-friendly Design: The XO is ergonomically designed to look more like a toy than a laplet. Children simply love its bright green color, cute rabbit ears and kid - sized rubber membrane keyboard and integrated handle. It's about the size of a textbook and lighter than a lunchbox. Thanks to its flexible design and "transformer" hinge, it easily assumes any of several configurations: standard laplet use, e-book reading, and gaming. It has rounded edges The novel, dual-mode, extra-wide touchpad supports pointing, as well as drawing and writing.
The XO is fully compliant with the European Union's RoHS Directive. It contains no hazardous materials and its batteries contain no toxic heavy metals.