Mission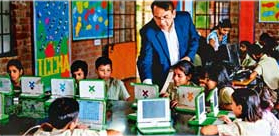 The mission of OLPC India is to create educational opportunities for the children of rural India by providing one connected laplet to every school-age child.
To empower the underprivileged Indian children to learn by providing each child with a rugged, low-cost, low-power, connected laplet with content and software designed for collaborative, joyful, self-empowered learning. When children have access to this type of tool they get engaged in their own education. They learn, share, create, and collaborate. They become connected to each other, to the world and to a brighter future.
It is time to rethink this equation
Given the resources that developing countries can reasonably allocate to education—sometimes less than $20 per year per pupil, compared to the approximately $7500 per pupil spent annually in the U.S.—even a doubled or redoubled national commitment to traditional education, augmented by external and private funding, would not get the job done. Moreover, experience strongly suggests that an incremental increase of "more of the same"—building schools, hiring teachers, buying books and equipment—is a laudable but insufficient response to the problem of bringing true learning possibilities to the vast numbers of children in the developing world.
Standing still is a reliable recipe for going backward
Any nation's most precious natural resource is its children. We believe the emerging world must leverage this resource by tapping into the children's innate capacities to learn, share, and create on their own. Our answer to that challenge is the XO Laplet, a children's machine designed for "learning learning."
XO embodies the theories of constructionism first developed by MIT Media Lab Professor Seymour Papert in the 1960s, and later elaborated upon by Alan Kay, complemented by the principles articulated by Nicholas Negroponte in his book, Being Digital.
Extensively field-tested and validated among some of the poorest and most remote populations on earth, constructionism emphasizes what Papert calls "learning learning" as the fundamental educational experience. A computer uniquely fosters learning learning by allowing children to "think about thinking", in ways that are otherwise impossible. Using the XO as both their window on the world, as well as a highly programmable tool for exploring it, children in emerging nations will be opened to both illimitable knowledge and to their own creative and problem-solving potential.
OLPC is not, at heart, a technology program, nor is the XO a product in any conventional sense of the word. OLPC is a non-profit organization providing a means to an end—an end that sees children in even the most remote regions of the globe being given the opportunity to tap into their own potential, to be exposed to a whole world of ideas, and to contribute to a more productive and saner world community.